About Me
Thanks for visiting my page!
I am a mother of two small children ( a 2 yo and a 1yr old) and work full time as a police dispatcher. I don't have a lot of free time on my hands, but I do love to cook and bake for my family. I enjoy trying new recipes and experimenting with different ingredients. I try to find easy and healthy meals that all members of the family will enjoy.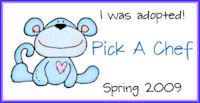 Favorite Foods
Mexican food. I ate it so much with my last pregnancy I thought for sure my little girl was going to be born with a sombrero! I also love all Asian food (Chinese, Japanese, Korean, Thai), Italian and of course food from the good 'ol USA. BBQ, grits, biscuits and gravy, fried okra...does it get better than that?