About Me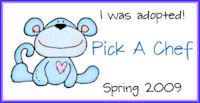 I am a Mormon,on my 2nd marriage, have 7 kids from my 1st marriage,all grown and gone but the youngest! I have a number of hobbies, but became an avid cook at about age 11, my first dish being chocolate cake, and then biscuits. I LOVE to cook, and to find new recipes and new ways to prepare old recipes. I also think that there are a few recipes that are good as IS, and I don't follow food fads.
For fun,I draw,play piano, read good books (mostly nonfiction) and write letters, and I have a fulltime job working nights as an aide at a group home for developmentally disabled adults. I have a collection of books, both old and new, the oldest one was published in 1896.
My favorite cookbook at home is my Betty Crocker cookbook. The best cookie recipes in the world are in it, along with the only perfect meatloaf recipe. My second favorite is Brownies by Linda Burum. It is full of recipes for brownies, and some other delicious chocolate desserts, I can't recommend it enough,it even includes HEALTHY brownie recipes!
My favorite dish to cook is enchilada casserole, but I am famous for my pizza from scratch,my kids ALWAYS want me to bake one when they come to visit!
My passions are good food, good movies,good books, good friends, and decorating the house. I am also passionately pro-life, and believe VERY strongly in God and the Savior. Compared to THEM,all else fades into insigniicance.

One of my pet peeves is militant activists of ANY persuasion, who think they have some kind of moral superiority that makes it OK to attack their opponents, either physically, with abusive or threatening language,or by property destruction, character assassination, or torpedoing careers. LAWYERS are another pet peeve. SO much that is good and fine in our country has disappeared, and IS disappearing,from lawsuits or the threat of them, especially by the ACLU and other extremist groups.
My absolute FAVORITE restaurant is the Macaroni Grill. Doesn't SOUND too promising, but the one we went to a few days ago had absolutely WONDERFUL food at fair prices, with a lovely decor and a very pleasant,relaxing atmosphere, with cheerful, superb service.
Favorite Foods
Pizza,roast turkey, bread dressing, cherry pie,jelly doughnuts, cranberry bread, sauce and relish, pot pie,fruit salad,broccoli, toasted cheese sandwiches,tomato juice or soup,pineapple cake and cookies, steamed brownie pudding,applesauce brownies, fudge brownies, buried cherry cookies, cherry chocolate kiss cookies,apricot ANYTHING, tuna loaf, coleslaw, Kashi GoLean Crunch, (the one that doesn't have flax OR "twigs"),pretzels (chocolate or not), spinach ANYTHING, coconut custard pie.