About Me
I recently moved to Alaska from Arizona for my husbands job. Right now I am staying home with our 2-year-old daughter. We are all still trying to discover Anchorage and all that Alaska has to offer. I love everything about food. Shopping for food, cooking food, and eating food. My mother is an amazing baker, and I am fortunate that she passed that on to me.

My husband is from Zambia, in southern Africa, so we cook a lot of traditional Zambian dishes. I love to cook but rarely do I measure and track cooking times. I am the kind of cook that just throws things together until I get what I am looking for.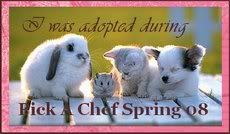 Favorite Foods
I love to cook anything spicy, curries, mexican, african. But I also like standard american fare like mashed potatoes and meatloaf.

I was famous in high school for my baked goods and my deviled eggs (weird combination, I know.) I make amazing lemon bars with a nice crispy crust and super tart filling.

My favorite restaurants in Tucson were Chaco's Cafe (small family owned w/amazing sonoran style mexican food), Karuna's Thai (tiny place with maybe seven tables, but the best red curry with bamboo shoots), and Cafe Poca Cosa (swanky south american fusion, the owner-chef Suzanna DaVila makes some killer moles and the most potent margaritas). So if you find yourself in Tucson, please go visit at least one of these places.

When I find some new favorites here in Anchorage I will post them.
---
Over 475,000 Recipes
Food.com Network of Sites