About Me
I am 22 years old and live in Virginia, very close to Charlottesville. I just recently moved into my own apartment and have gotten more into cooking since being out on my own. My boyfriend and I are actually working on building a house, that will hopefully be done by the end of this summer/beginning of fall. I am very excited about this! We are lucky because his dad owns a building company, so we are fortunate to be getting this house done by him. I work full time, at a community services board, in the Human Resources depeartment, so I like to find recipes that I can make in less than a half hour, since there is not much time once I get home.
I have a 3 year old little boy, Aidan, who definitely keeps me busy. He is so independent and definitely knows what he wants/does not want! It is great watching him change each day a little more. He can be a picky eater, so I try to find things to make where I can take parts out of it that he will eat as well.
I love warm weather - spring and summer ! I love the flowers that come out and driving with the windows down. I love the beach and just the feeling of the sun on your skin.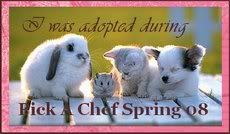 Favorite Foods
I'm really into a lot of the chicken skillet dishes lately, just because they are so easy to make. I love recipes that have simple ingredients that I
I also really love to make the basic meals - like ravioli, lasagna, and tacos ! They are so yummy and I never seem to get tired of them.
I like recipes with a lot of veggies in it - like broccoli and peas. Also, I like to use a lot of cheese :)
I'm also definitely a big chocolate lover. I love any type of mousse pies or brownies. You can really win me over with that.
One of the things my boyfriend and I love to do is go out to eat. It's one of my weaknesses. We regularly visit Texas Roadhouse, Outback, and Applebees. My favorite things to get out are the chicken & broccoli alfredo dishes.
---
Over 475,000 Recipes
Food.com Network of Sites