About Me
Cooking is my passion but I can never seem to follow the same recipe twice (or even once usually!). I'm beginning to think it might be a sickness?!? My DH always rolls his eyes at me because I'm constantly looking for new recipes to add to the rotation, funny part is that I don't have a rotation since I'm always looking for, and trying new recipes! I'm seriously obsessed with looking up recipes every day.
I love food and think about it constantly, to me food is so much fun. Unfortunately my DH is an extremely picky eater. I usually make meals and adjust recipes so that he'll eat them (for example, no mushrooms, sour cream, mayo, seafood, the list goes on and on). But I also make some more adventurous recipes that he won't eat, usually for my lunches. I also have a picky DD who is 8 and a DS who is 4.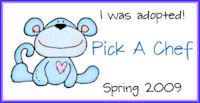 Favorite Foods
I'd definitely have to say that my favorite all-around recipe to make and eat is spaghetti with meat sauce. I never grow tired of it and usually make it at least once a week. I also love pizza, lasagna and pretty much anything with lots of garlic and onions.

Even though I just listed mostly Italian foods as my favorites, I make a variety of foods each week. For example, we'll usually have something Mexican one night, like enchiladas, BBQ chicken, salsa chicken, shepherd's pie, cabbage roll casserole, maybe something Asian inspired. It's always different and I like to mix it up.

I've been on and off of Weight Watchers over the years, so you may notice that some of my recipes are low-fat and even include the (old) points values.
Update: I've been gluten free for over a year now and haven't been an active contributer on this site in that time. Not for any reason in particular, but just thought I'd mention it. ;op