About Me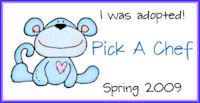 I am a Pakistani student living in Chicago. Was born in Dubai, U.A.E. I love to cook & read. I am not just into Pakistani food but also have a taste for Chinese, Italian & Arabic food. The credit to my interest in cooking goes to my dear mother who loves to cook & try out new things.

All desi recipes since that is what I'll be posting most of the time are almost same with a spice difference here & there. Although the term desi food usually gives the notion of Indian, Pakistani & Bengali food. The recipes I'll post are typically Pakistani styled made.

Tips & Tricks:

For people who are new to cooking, Cooking is not at ALL hard. For desi women who usually do end up cooking almost daily no matter what, always keep the basic ingredients handy. Be prepared before starting to cook. Beleive me it can save more than half of your time. Organization in kitchen is one thing that will also help you cook easily & quickly.

On a health note. You can substitute vegetable oil with extra virgin olive oil until unless specified in all recipes posted.
Favorite Foods
My favorite dishes to cook are.... I like to cook anyways, doesn't matter what dish it is but Sindhi Biryani, Chily Chicken, Tahri, Chicken Chowmein, Zanzibari Pulao, Qeema & Mooli Parathas (lol) are my all time favorite ones.

Dishes I am famous for are Sindhi Biryani, Chicken Chowmein & Chilly Chicken (Desi Style)

Favorite restaurants are Usmania & Reza's in Chicago & Al Faisal in Dubai.
---
Over 475,000 Recipes
Food.com Network of Sites