About Me
I don't really like answering about me sections, but here goes nothing.....I live in Chicago, IL. Went to culinary school. Used to work in a french restaurant in Downtown Chicago as a pastry chef but now I am a stay at home mom. I went to school for cuisine, not pastry, and actually I am much better at cuisine, however I've always wanted to study more pastry. I am not bad at it, I'm actually very good (tooting my own horn), but everyone says I have a natural talent for cuisine. Either way, I love cooking because it is my meditative time. However, when I cook at home, no one dares to walk into the kitchen because I am very bossy and they would rather not deal with me....heehee!
I also love to craft, read, and write. I write a lot. Been working on short stories lately, but I've always been more of a poem freak. I love to read....I have a massive collection of books....every type of book. They are mostly cook books and poetry collections, but I also love history, religion, drama, suspense, romance (not the cheesy kind, my favorite book of all time is love in the time of cholera by gabriel garcia marquez, I have yet to see the movie), mystery, murder mystery (second favorite book is and then there were none by agatha christie).
And my rambling continues....I come from a small family, I suppose, 1 brother 1 sister and my parents. My brother is married with 3 kiddies, my sister is a single mom of 1. I am engaged to the love of my life. To clarify, engaged is in parentheses because we cannot legally get married yet. I am a lesbian and I am very hopeful to the legalization of gay marriage because I would marry my girlfriend in a heartbeat. We have a 5 year old son, Joel,and a daughter from her previous relationship, Ashley, 12. I will post some pictures on here as soon as I have some time. Enough rambling....thanks for reading, if you actually stayed awake through the whole thing.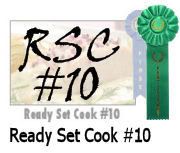 Favorite Foods
don't have a favorite dish to cook....i love to experiment and try new things....my family is more than willing to be my guinea pigs so to speak. I love love love pozole!!!! And I had a favorite restaurant, but they have changed owners and it has not been the same since, so I do not feel right mentioning it anymore.