About Me
I developed my love for cooking when I was in grade 9 and since then have progressed from simply following instructions on the side of a box to cooking gourmet meals for my friends, family or just about anyone to enjoy. I tend to put my own twists on a recipe to create something that is orginal and love nothing more than seeing the food I cook being enjoyed by others. I love music, chilling with friends, drawing and big nights out. I currently work casually at a sandwich shop but I am going to Shaftson international hospitality college next year to get a diploma to be a chef. My ultimate dream is to travel and cook in the best restaurants all over the world.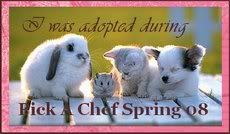 Favorite Foods
When it comes to my cooking specialties i'm sort of an all-rounder but i especially enjoy making fancy desserts, asian, italian and mexican food. I'm a vegetarian but I love cooking with meat because its so much more interesting and you have more options to play with.
I absolutely love any kind of baking. Cakes, muffins, biscuits; you name it and they're always on demand by my friends who come to visit. I especially like making cute birthday cakes in the shapes of animals, castles or something that reminds me of the birthday girl/boy.
Overall I just love cooking anything. It's my main hobby and I sometimes find myself cooking for no one just for something to do.
So PLEASE if you try one of my recipes leave a review or post a photo.. I would greatly appreciate the feedback :) i haven't posted anything for a while but i'm going to try and keep it updated from now on.
Thanks heaps!
---
Over 475,000 Recipes
Food.com Network of Sites