About Me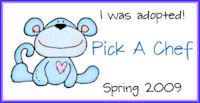 Culinary Arts is the ?mode de vie?- way of life, well at least it is to me. After all there are 3 basic things that we humans need to survive: food, water and air. Although, not all get it, for the ones who are fortunate enough, get to take it a step further and not just get to eat their food, they get to study it. That?s right-Study, because there is an art and a science to cooking. Besides creating and designing it, there are many dynamics to making a meal. There is preparing, so you have to think what the best way to prepare the meal is. So you think: do I thaw it out, defrost it, and let it marinate, or start the cooking process now. After that you say what the healthiest way to prepare the meal is: bake, fry, boil, roast and what should the temperature be like? You have to have the instinct to know whether this is too much or too little, or if something is ready to be flipped then. What shade of brown should it be? How can I keep it moist on the inside but, crisp on the outside? There is just so much to know, and people have no idea, what goes in to making food, they just get to enjoy the result of it, but people like me get to have the honor of knowing.
That's why I am so passionate about culinary arts. I feel that it give me a way to express my self and make others happy. To know that after you have concocted a dish, that the recipient not only, love it but wouldn?t mind a "second" there is no word to explain that. Culinary Art became my life when I was first asked to bring in a dish, to my Spanish class celebration, that is apart of or reflect your heritage/culture. For me being African-American at first I was a little unsure about how do I make something that shows a part of me and my culture, but doesn?t come off stereo typical. Then I started thinking about, what was my favorite thing to eat as a little girl, and I got it ?banana pudding"! It was southern inspired and is apart of the soul food culture, which depicted my some of my family southern "roots". This made me proud of my culture and after that I really didn?t think about anything being stereo typical. But I instead thought to my self that I am going to give them a cooking experience and do to them what this food has done for me, and leave them amazed. I made the banana pudding simple and easy, chilled it in the refrigerator, and brought it into school the next day. It was a hit! So much so, that people had to have small servings. After that, banana pudding became my signature dish, a family favorite and a crowd pleaser. I was asked to make it anytime we had to bring in something for a class party or special occasion.
When, the next special school occasion came up, I wanted to try something different after being the victor with my banana pudding. Well, that and the fact that this school occasion, asked for something Spanish themed. So, I did some research and decided to do a recipe on guava cheese cake. The problem was that I didn?t have all the necessities to make it, so I decided to change the recipe around and rearrange the ingredients. The next day that I brought it in to school, I had to go to another class to complete a test, so I wasn?t able to be there to receive every one?s reaction. After I completed my test, the festival was over and all he food was gone. But, the teachers told me that it was a hit and everybody love it, that was reason, for it not being anymore and me not being able to test my own food. One teacher even asked me for the recipe. That day I left school with a great feeling and a more of I knowledge that this was what I wanted to do. I knew that if I could please that great crowd that I could be successful. It convinced me even more that I love to cook! I want to study culinary arts to get more of a knowledge of the science and art that makes it what it is. I want to increase my expertise and be prepared for my future career in the art of cookery, and make my ?mode de vie?, yours too!
Favorite Foods
Cupcakes,cakes, pastries, chocolates,shrimp,fish,seafood,french fries,pizza,mac and cheese
Anything Baked that is good and hot!