About Me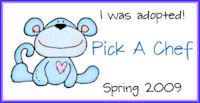 I'm a mother to three beautiful children: one boy and two girls. We have the cutest little grand children. He's a real charmer and a handful! And she's an absolute prescious little princess. No wonder grandparents love them so! I have a great husband who likes to help me cook and clean.
We love to garden and have a huge herb and vegetable garden every year. Wondering what to do with all the eggplant, tomatoes, and zucchini is what led me to Zaar. My husband and I have a wonderful time cooking together, whether in the kitchen or on our deck. We love to eat and try new food. We just cook and eat it all!
I love any holiday when my family can come home to visit. For the holidays, we always cook the traditional fare, but add new twists by adding a few new recipes into the menus. It's always interesting to see what they think! I also love cooking for our office parties. You always know it's a hit when they ask for the recipe.
Favorite Foods
I love cooking all kinds of ethnic food. Our favorites are Indian, Italian, Mexican, and Thai. Not necessarily in that order! I like to use what is seasonal out of our garden; this leaves the gamut wide open. For everyone's birthday and holidays, I always try making a different cake. I found this carrot cake recipe in the Southern Living Ultimate Cookbook that is to die for.
Now it's the only cake we have at Thanksgiving and my husband's birthday. We love going to different restaurants and ordering their specialties. I then go home and duplicate them!

MY BIGGEST FOOD TRAGEDY!! This happened right after we got our first outdoor gas grill. We had guests over for Memorial Day weekend. For a cookout we decided we would BBQ ribs. Lots of ribs! YUM!
They were done almost to perfection. I slipped back in to make extra drinks for everyone, came back, and they were charcoal! Nothing! Hard lumps of coal! Need I say more? We got rid of the grill! Not the girl, the grill!
---
Over 475,000 Recipes
Food.com Network of Sites