About Me
Im a stay at home mom of 3 (ages 5, 4, and 3). I have a degree (BFA)from Virginia Commonwealth University in Interior Design. I enjoy cooking and learning everything I can about cooking.
I just moved to the country and really love it, especially as the leaves change. I have 2 boys and 1 girl.
My kids dont really appreciate my cooking yet, they would rather have a peanut butter and jelly sandwich. I know that someday they will and will also eat me out of house and home.
I look forward to that actually because a chef (ha ha ha) can only hear "EWWWW!" so many times before their self-esteem starts to suffer.
I battle through, learning as I go, awaiting the day I hear "Can I have some more?".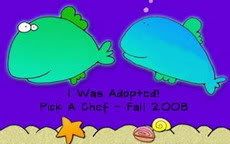 Favorite Foods
I love Italian, French, English Pub, and good old American! I really enjoy almost every type of food.
I enjoy picnic fare, matching wine with food and all chocolate desserts.
---
Over 475,000 Recipes
Food.com Network of Sites