About Me
My name is Nichol and I am 35 years old. I live in Doniphan, NE with the love of my life, Scott, our beautiful 4 yr old daughter, Molly, and very active 19 mo old son, Mason!
I enjoy spending LOTS of time with my children. We love to read, color, play with building blocks and most of all, COOK! Molly is becoming my junior expert(already!) in the kitchen when stirring things. Nothing brings me greater joy than to prepare delicious, well-balanced, fun meals, then to do it with my children.
I believe the heart of the family lies in the kitchen and that is where we all tend to gather when at each others homes. I learned a lot of my cooking skills & techniques from my dearly departed Grandmother. She taught me that you cannot go wrong with a good boat of gravy!
I tend to look at recipes as a guideline or starting point and go from there. I love to take classics and put new twists on them. I love to just experiment and see what comes of it.
Food is my passion and I truly find it so relaxing & rewarding to prepare my signature dishes and see my family's faces after a satisfying, hearty meal.
I am a chef/caterer but due to some other health issues, I have had to put my business on the back burner. I am a med aide in an assisted living facility, on the wait list for LPN school! I will always be a foodie and at least if I'm not able to return to the restaurant industry, I will always have my family & friends to cook for!
I had gastric bypass surgery in 2003 when my ex-husband & I were stationed overseas(Go USAF!!). So my diet is a little different but being 8 years post-op, I know my body, what foods I can handle, how much sugar to NOT have, and how to eat properly. All that has led to me successfully keeping off the 230lbs I lost! I truly have been blessed!
I am writing a cookbook of my own recipes as well as many friends & family contributions. I love the thrill of writing these recipes & tips and then getting to try them out on my loved ones. And they aren't complaining either!
So, that is just a small part of who I am. Or rather, a HUGE part of who I am! I hope to meet others that share my intense love of cooking, too.
If you would like to know more about me, find me on Facebook under MollysMom78 or shoot me an email!
Two more things. First, you can NEVER have too much butter(God Bless you Paula Deen), and two, GGGOOO BBBIIIGGG RRREEEDDD!!! Huskers forever! <3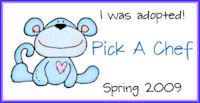 Favorite Foods
Being from the Midwest, I am ABSOLUTELY a meat & taters woman! Nothing beats a nice grilled steak, a loaded baked potato, and some veggies!
I love cooking comfort foods and some of the ones that I am "known" for and have actually won awards for are: 4-Cheese Baked Mac & Cheese, Scicilian Meat Roll, Chicken Fried Steak & Cream Gravy, Cheddar Bicuits, Banana Pancakes, PB Marshmallow Treats, No-Bake Cheesecake, Sauteed Bacon Green Beans, Tator Tot Casserole, Monterey Chicken, Super Yummo Mashed Taters, Scalloped Corn Casserole, Scalloped Potatoes, Cheesy Beef Enchi's, Chicken Enchi's, Husker Chili, Creamy Tomato Soup, all my homemade breads & rolls, Chicken Salad, Sweet AND savory fondue, my many different varieties of pizza, Spaghetti Pie, Runza's, and the list goes on & on!
Some of my favorite restuarants(many of which I do copy cat recipes at home), are: Red Lobster, The Outback, Hu Hot, Imperial Palace, 5 Guys Burgers, Brixstone Pub, Piezano's Pizzeria, Runza Hut, Spaghetti Works, Olive Garden, P.F. Changs, and a couple of fast food places. Although we very rarely eat fast food, there are a few select that I don't mind!