About Me
Thank you to all those who reviewed or taken photos of my recipes. I can no longer send a thank you note individually. Please know I am very grateful you have tried my recipes.

____________________________________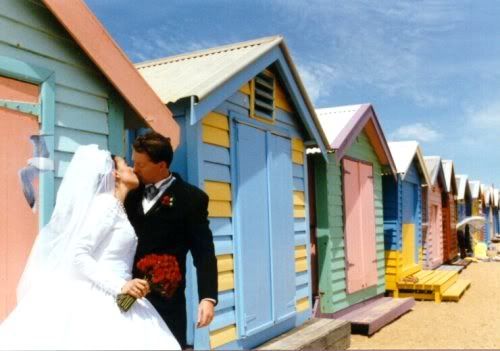 I was born in Sydney and grew up in Melbourne. I lived in Melbourne for most of my life until I was married and decided to move to the country where it is blissfully quiet and the pace is a little slower. My parents are from Cyprus (Turkish speaking). So I grew up with food being the main topic of discussion around family and friends. (Photo above is a photo of our wedding day - Taken in the year 2000)

At the age of sixteen I decided to stop eating meat and my poor mother thought it was the end of the world. She was in mourning for a few weeks so I compromised and relented on poultry and seafood. (Compromising with a typically stubborn Mediterranean woman is like having teeth pulled minus the anaesthetic).

My mother was definitely the bossy hen of the kitchen. I wasn't allowed to even enter her sacred domain without the usual quick fire set of questions such as. What are you doing? Why can't I do it for you? Having you got something better to do? Don't you know it's my job to cook? With these obstacles to contend with, its small wonder that I was a late bloomer in the kitchen.

Growing up in the suburbs we met people from all nationalities and ethnic backgrounds. There were Asians, Anglo Australians, Central Americans, Greeks, Indians, Italians, Persians, Poles, Turks, Macedonians, Maltese and Yugoslavs. So I guess it's safe to say that I was introduced to a more diverse range of culinary offerings at a young age than most people would sample throughout their entire life. I remember in Primary School we used to have 'International Day' and every child in the school had to bring along a dish from their parents native country. I brought along mums Dolmas and brought back home a feast from around the world.

Being introduced to all sorts of food was a blessing and I do my best to pass this on to my daughter (Little Miss). I must be doing something right, at her age of three and she was known to attack the Sushi & Sashimi platers before the waitress has even had a chance to place it upon our table.

My husband grew up with (in his own words) 'Bangers and Mash', which in Australia slang is sausages and mash potatoes. Having to be an eye witness to my in-laws dinner parties this has proven to be somewhat of an exaggeration on my husbands behalf as his mother can certainly cook an excellent roast and his sister is quite the pastry and cake aficionado.

Just the first month during which I introduced my then boyfriend to my family he put on several kilograms. He argues that it was because he couldn't say no and risk insulting my family. But secretly I suspect he was having what I affectionately call a food-gasm on the strength of all the new tastes and textures that his poor neglected palate had never been privy to.


Where do you live? I live in a very small town in Central West Victoria Australia, about 30 kms pass Ballarat. I know some of you won't believe this, but I actually do have kangaroos in my back yard. It's not an urban legend. We are 30 kms away from a decent supermarket, but our local grocery store is perfect for staples.

What's your favourite restaurant? One thing I missed about living in Melbourne is the quality and variety of food at restaurants. I went to the local Japanese restaurant in what now serves as our nearest large town to be served FROZEN Sashimi, they didn't even allow it to defrost out the back. I was so embarrassed for them. My favourite was Kappo Okita (Japanese Restaurant) in Melbourne but in October 2007 they had shut shop and moved to Sydney.
Our favourite restaurant now has to be Sunday Lunch at The Press Club in Melbourne we will have dinner here one day but you can't go pass chefs picks on Sunday.

What you do for work? I work after business hours for a hospital in a business section that assist the aged, people with disabilities and the elderly who are socially isolated. It's a rewarding position but it's also a bit sad to know that there are a lot of people in pain and alone.




For Fun? Due to work and family commitments I stopped going to Yoga classes, I would love to get back to it one day. I like riding my bike when the weather is nice. I put Little Miss (DD) on the child seat attached to my bike and off we go on an adventure. I'm also addicted to the solving Sodoku puzzles. I'm now interested in food photography because of Zaar, I even want to do a part time course but haven't found the time. We also love to travel, Family and I try to get away on holiday's / vacation at least twice a year or every four months, depending work commitments. (Photo above is Little Miss on a beach in the Daintree Queensland Australia, She is waiting for a crab to come outside it's hole. Not sure what she will do with it if it comes out)

What's your favourite cookbook? My favourite one is 'Meals without red meat' by Simon and Alison Holst (perfect for me as I don't eat red meat). ' Fish' by Pete Evans (perfect to take on holidays with us, if we are travelling around Australia). Since joining RecipeZaar on 19th Jun 2005, I don't buy many cookbooks.
What's your favourite dish to cook? Moroccan Chicken, Indian Butter Chicken, Gomae - Japanese Style Spinach Salad, Smoked Salmon Carpaccio, BBQ's, Fish/Seafood Dishes and easy to cook meals

What I can't live without in my kitchen/fridge/pantry? My mini food processor, lemons, olives, olive oil, soy sauce, garlic, fresh ginger, my spice shelf, canned tomatoes, black pepper and chilli.
Favorite Foods
I don't like to discriminate so I have to admit that I love all sorts of food. I love making food, eating it, I love feeding my family and I love preparing things together with a group of loved ones. It's harder to make meals that take a lot of time these days as Little Miss needs a lot of attention. So I try to make quick, healthy & easy meals.

Allergies and Food Restrictions: Food I don't eat are Eggs, Most Meats (Beef, Lamb, Pork, Rabbit, pretty much anything that walks except Poultry and Seafood), I don't eat anything that has high iron and added iron (such as liver and breakfast cereals). I alway try to substitute dairy products with lactose free options as Little Miss is lactose intolerant.

- How I Review Recipes (As of February 2007)

If I haven't tagged a recipe then I'm looking for a dish using the search on the ingredient. I live in a remote area, so I can only use what I have at home. If I don't have an ingredient at home then I don't make the recipe unless I am able to leave it out or I am able to plan a trip to town to be able to purchase the ingredient. I will only make a recipe if the ingredient appeals to me. I don't make a recipe if I know I'm going to dislike it.

Rating depends on few factors: Directions, Ingredient, Presentation, Aromas, Changes and most importantly Flavours.

Directions: I normally read the directions when I'm actually making the recipe. So if the directions are vague or not very clear then the poster will not get 'bonus points' as I have committed in making the recipe.

Ingredient: Zaar has many members from all over the world and what something is called in one part of our world may not mean the same thing in another. So if the poster has provided an equivalent name or the ingredient is listed on Zaar dictionary (and has substitutes listed) then I will give the poster 'bonus points'. If I am unable to find the ingredient on Zaar dictionary but find it on an Internet search then the poster will get not get the 'bonus point'. I will not attempt to make a recipe if I can't find an equivalent and if I am unable to leave the ingredient out.

Presentation: Is not very important however if something looks delightful then poster will get 'bonus points'. Presentation is not a photo on Zaar but how it looks on my plate and when I've presented to my family.

Aromas: Is not very important however I love it when a food smells wafting around the house. I can tell when our family is excited about dinner when they ask 'What are you cooking' or 'These smells are making me hungry' so the poster will get 'bonus points'

Changes: If I had to make some changes due to my families or my palate then it will not make a difference to the posters rating. However if I had to reduce salt or sugar then I will not give 'bonus points. If I change the step of the directions to make the recipe better then I will not give 'bonus points'

Flavour: This is the most important part on leaving a rating. If the flavours challenge my palette and open new doors to my taste buds then a perfect 5 star is given and the above factors will not contribute to it other then I just had a 'food gasem'. If the flavour is not new to my palate but the recipe was very yummy and all the other the above factors are perfect then I will give a 4 or 5 star. I don't like to give out 1 star my taste bugs are different to the chef who posted the recipe so it's not that chefs fault.

- How I reviewed recipes previously

5 Stars = Outstanding - This one is a keep! The flavours were great, easy to prepare, directions are easy to understand. Would regularly make this dish and comfortable to recommended this one to family and friends.

4 Stars = Loved it - The flavours were great, easy to prepare, directions are easy to understand, would defiantly try again

3 Stars = Liked it - I've tried it once but I may not make it again

2 stars = OK - One star for the effort of the chef posting the recipe & 1 star for appealing to my taste buds to attempt on making the recipe - However I will never try it again

1 star = Didn't like it - I don't like to give out 1 star - My taste bugs are different to the chef who posted the recipe so it's not that chefs fault.