About Me
I'm Christine, I'm 16 years old and a junior in high school; I just recently moved to Salina, Kansas from Wichita with my mom, younger brother, and 2 cats. My life consists of school, work, and theatre. Moving to a new town and a new school half way through high school turned out to be a great event and I am very happy with my new life.

I work at Papa Murphy's Take and Bake Pizza and absolutely love my job. It is the perfect job for me at this point in time. Since the town is pretty small, the shop has become a favorite and we have lots of regular customers which is awesome. If you haven't ever had Papa Murphy's before then you should most definitely try it because it is the closest you can get to homemade pizza without making it at home! As a first hand source, I can tell you that the dough is all made, cheese shredded, and veggies cut all in-store. My favorites are the Papa's favorite, gourmet veggie, and cheesy bread! I just love experimenting and creating new tasty combinations, but I also get to take home the mess-ups:)

I have already decided that I want to be a diner owner and baker or someday (or something along those lines). I don't know if I'll get there, but that's what I wanna do.

My mom has taught me everything I know, she supports me, and she always makes sure I'm happy. I could never thank her enough for what she has done for me.

I also watch TV, not much, but there are a few shows that I absolutely have to watch (American Idol though it's over now and Hell's Kitchen). I also love Food Network and HGTV!

I love Christmas, Thanksgiving, and Easter; mainly because those are the 3 holidays that my entire family gets together on and they're the big food holidays.

I'm also very lucky because I have already traveled a lot inside the country mainly, but I have been to 3 of the islands in the Caribbean and Mexico. My absolute favorite places so far are California, Mexico, the Bahamas, Florida, Virginia, Colorado, and Oklahoma. When traveling, I love anything outdoors; skiing, the beach, amusement parks, national parks (Yosemite, Mesa Verde!). I used to think my mom was trying to make our summer vacations all 'educational', and now I can see that she WAS trying to teach us something, but I look back on those times and realize how great the places were. Williamsburg in Virginia and Eureka Springs in Arkansas are two of the cutest towns I have ever seen!

If I could meet any 3 people in the world, I would wanna meet Paula, Jamie, and Bobby Deen:), but I'm probably not alone on that.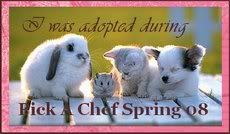 Favorite Foods
My favorite foods are chicken (any way- except greasy fried chicken), baked beans, apples, fresh mushrooms, tomatoes, strawberries, and spinach.

A little Mediterranean place in Wichita called Bella Luna Cafe is my all time favorite restaurant. I have yet to find something I don't like. They have THE BEST hummus in the world! I also love their falafel, chicken schwarma sandwich, fattoush salad, pasta salad, chicken salad, and french fries:) I won't eat fries anywhere else now. I also love diners, especially one called Town and Country. Best chicken tenders in the world! They also have wonderful fried okra, pan fried potatoes, bread pudding, sweet rolls, the basic comfort food!

My uncle is the King of the grill in our family. His ribs and shrimp are to-die-for, but he has yet to give up his secrets!