About Me
My children are now both in college, and am currently caring for my Mom who is convalescing from a stroke. Volunteering has been my main form of entertainment outside the home, but getting out and about is hard to manage right now. Recipezaar forums help out, make me feel I'm participating in the real world. Have had many different types of jobs, but would like to go back to school to get an education degree as soon as Mom is better able to care for herself. Imagine! a new teacher over 55! Love baking, and still volunteer to run the Band Booster Bake Sale even though both my kids have graduated out -- the other volunteers and the customers are just wonderful. Besides, who doesn't mind getting repeat requests for one's specialties?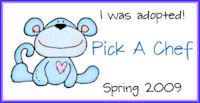 Favorite Foods
Unfortunately, it's easier to list those I don't like:
green olives with pimentos. That's about it, which is why I've got the new YMCA membership! We cook ethnic all the time; it's like traveling without having to get on a plane.
---
Over 475,000 Recipes
Food.com Network of Sites