About Me
I'm married to a wonderful man since June 17, 1977. Wow!!!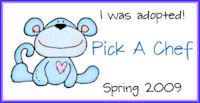 Our kids are grown now and married. We have as of right now by our son and his wife two grandsons. Our son PROUDLY SERVED OUR NATION in the UNITED STATES AIR FORCE for 6 years. He is back home now working in a local factory.

Our daughter and son in law were married 10/22/05 and live in Georgia. Man do I miss her. We did so much together. She could put a complete meal on the table by the time she was 9 years old. I mean Fried Chicken, Mashed Potatoes, Green Bean, Corn Bread or Bisquit Biscuits. Wow!!! How time flies.

Both my kids love to cook, they always from the time they could sit on the counter were in the kitchen helping Momma cook. Each night they would take turns holding onto the mixer with me while I mixed the mashed potatoes or help me stir one pot or the other.

We just recently purchased a Honda VTX 1800cc motorcycle. So when hubby gets some time off from work we are going to take some trips on it. I love to go traveling, cruises anywhere, but he seems to be more of a home person the older he gets so we have to make a compromise on this one.

I don't cook as often as I used to since the kids aren't at home and because of hubby's work schedule. If you seen it you would understand what I mean but when I get the chance I like to try out different things but we need to watch our weight and really need to lose a few pounds.

So I am trying to find recipes on here that are low in fat and all that jazz. There are plenty of them that is for sure.
Favorite Foods
I have several favorite foods I like to cook. Manwich Casserole, German Potato Cakes, Momma's Chili, Potato Salad, several more but at this time I draw a blank. Funny how that happens isn't it.

My favorite restaurant - Now that's a hard one, because it depends on my mood so I will leave this one blank for now.
---
Over 475,000 Recipes
Food.com Network of Sites