About Me
I'm Scottish and have lived in North America for 17 years (8 in Canada, 9 in the USA). I have been 100% vegetarian for the past 6 years, and only ate fish once or twice a month before that for another 8 years or so. Now I'm eating vegan about 80% of the time and always looking to try out new and tasty recipes. I live in Ohio now, and although it is beautiful, one of my pet peeves is the absolutely atrocious food available in restaurants and more specifically the lack of veggie options. When dining with friends I get so mad (inside of course) when they say: "oh look there's a couple of salads you can have". I don't go out to eat salads; I want a meal! Well, this is one of the main reasons I cook so much and enjoy cooking so much too. It is extremely gratifying when I invite people to the house and they enjoy what I make by really diving into the food. I also enjoy gardening, so in the summer I cook and can like crazy preserving tomatoes, cucumbers, tomatillos, peppers, zucchini and lots of herbs.

I am a professor at a local university and love my job. I feel that I get paid to do a hobby. However, I am ultra busy so I like to make things that are quick and simple or things that I can freeze and reheat at a later date.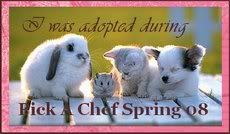 Favorite Foods
Anything vegetarian but I really enjoy Thai, Indian and Mexican food, and just about any kind of soup.
---
Over 475,000 Recipes
Food.com Network of Sites