About Me
My name is Alicia and I am a wife and mother. I am a SAHM and WAHM. I enjoy trying new recipes and can't wait to get my sons into it as well. I really enjoy baking most of all, but I find lately I am getting more into cooking as well. And I dabble in food photography so I love to get pics of the dishes I prepare.

I have found so many great recipes here and I just want to say Thank You! I try a new recipe almost every night. I have started submitting some I have around here and trying to create some of my own as well so if you try any of them I hope you will like them as much as I have enjoyed all of yours.

I worked as a Barista for a couple of years and I love to mix drinks up and try all sorts of flavor combinations.

I am thinking about trying to start up a cooking club in my area! I am really excited about it but I am waiting until my son is a bit older and we are in the process of selling our house so I wanna wait til that is done. It will be a meet once every couple weeks or once a month sort of thing and we will all get together and prepare new dishes planned around themes. I think it will be a lot of fun!

I often bore my friends talking about food so much lol. I just love to talk about recipes and the different foods out there.

Lately I have joined in on many zaar games and events and am having loads of fun! It keeps me rather busy just keeping up with the threads and making so many recipes lol. But I have found MANY wonderful recipes because of them.



This past year (08) I have started my photography business. It has been a lot of fun, and I hope to continue to grow with it all. I am an on location natural light photographer specializing in children, families, seniors, newborns, etc. It is such a great thing to be able to do something you love and still be able to be a SAHM which is something that is very important to me. And who doesn't love to be their own boss??? lol

MY RATING SYSTEM:

5 stars ~ An incredibly delicious recipe and something I would make for company. Also the deciding factor from 4 to 5 stars is simplicity! If its super yummy AND simple to make it gets 5 stars by me!

4 stars ~ A great recipe and one I would make again. I may have made a couple small changes however to our tastes.

3 stars ~ A pretty good recipe, but not one that I would most likely make again only because I already have so many others to try, and our favorites to make again and again. Also probably needed to leave out a few too many things or add in a few of my own to get it to our tastes.

2 stars ~ Just not for us. We ate it, and tried it according to recipe directions, but the flavors or textures or some other aspect were just not something we enjoyed.

1 star ~ I wouldn't normally give a 1 star, but it would have to be a messed up recipe to get one. lol


Create your own visitor map!





~~~~~~~~~~~~~~~~~~~~~~~~~~~~~~~~~~~~~
I have participated in the following...




February 08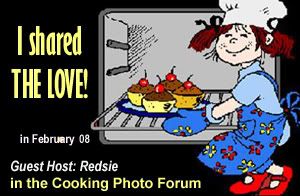 March 08



April 08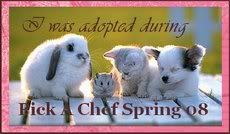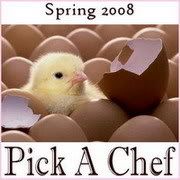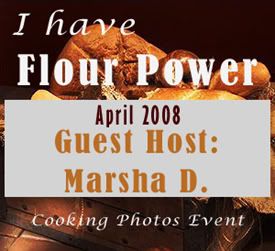 May 08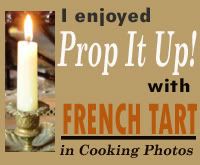 Favorite Foods
There are so many favorites that its hard to narrow it down, but pretty much anything with cheese is at the top of the list! And same goes for chocolate and dessert! I love a good cheesecake anyday! My husband is especially fond of my eggnog cheesecake. I also really enjoy mochas!

I love the flavors of Greek style dishes as well as Italian dishes!

My favorite herb is Fresh Parsley! I love it on everything! Oh and GARLIC!
---
Over 475,000 Recipes
Food.com Network of Sites