About Me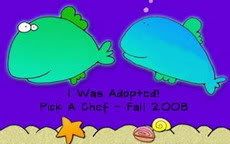 I'm half French and half Italian, so that means I love food, I love wine, and I love food with wine! I'm passionate about my cultures and it reflects in my cooking style. I love dishes with complexity, richness, and unique character. I prefer cooking the old fashioned way, with less technology and more elbow grease, but being a Mommy of 2 little ones, I do have to sometimes bite the bullet and go with some shortcuts. But for the record, I'm stronglly against fake foods... Cool Whip, margarine, mixes, etc... because I love whole foods that are in their unadulterated state... like butter, fresh whipped cream, etc. The real stuff ALWAYS tastes better. Not to mention those substitutes are pretty close to being plastic.
My parents are both wonderful cooks. My father is a seasoning genius, and my mother makes everything taste delicious. They both instilled in me the love of food and the love of the art of food, and that every meal should be a celebrated occasion. To this day, I cherish every moment around the table. Food makes people happy, and it brings people together like nothing else can. Now at home with my darling husband, we love spending an evening preparing a delicious, homemade meal... it beats going out to any restaurant. You can taste the love in every bite.
The cake used as my icon picture... a beautiful mocha genoise, was made by my mother for her 25th Anniversary, and is probably at the top of my list for amazing desserts. It's like no other cake in this country... and here's why... It's a recipe from my grandmother's brother in France, who up until a few years ago, owned a pattisserie in a small village near the border of Switzerland. It had been in the family for generations.

I have traveled all over Europe and the United States, and also visited Morocco. Marrakesh is magical, France is inspiring, and I wish to go back one day. My travels have made me appreciate culture and the amazing diversity between peoples and their beloved foods.

I have truly become a Zaar (Food.com) addict and love searching out the highest rated recipes to share with family and friends. Doing this has helped me save money at the grocery store because I can plan out my meals for the week and make one trip instead of shopping everyday. I love crockpot meals not just for the simplicity, but slow cooking in my opinion brings out remarkable flavor and tenderness and allows ingredients to meld just so. Also, I love finding a recipe that is inspiring... I may not follow it completely, but I'm always open to new ideas and fresh new ways to prepare foods we love.

My rating system for recipes are as follows:
5 stars means it was FABULOUS and unique and I'll definitely be making it to impress my guests.
4 stars means it was great and I will be sure to make it again.
3 stars means it was good and served the purpose I needed but I may or may not make it again.
2 stars means I really didn't care for it and probably won't be making it again. It may not just be the taste, but other factors such as preparation involved and it's worth compared to the end result.
1 star means I really did not like this dish and will not make it again.

Thanks for your interest and I hope you enjoy my recipes!

********************

I first saw this on Karen from Colorado's page... I love it!...

I didn't have potatoes, so I substituted rice.
I didn't have paprika, so I used another spice.
I didn't have tomato sauce, I used tomato paste;
A whole can, not a half can - I don't believe in waste.
A friend gave me the recipe; she said you couldn't beat it.
There must be something wrong with her, I couldn't even eat it!
Favorite Foods
Desserts! French pastries (eclairs!), cakes, pies. Anything with goat cheese, anything with sundried tomatoes, anything with artichoke hearts. Love fresh vegetables incorporated into a dish. Some meals just make you feel healthier... and happier!

My 2 favorite cookbooks are:
1. The Best Recipe Every recipe is tested over and over again with minor details changed to see the best result. Their creme brulee comes out PERFECT.
2. The Good Housekeeping Illustrated Cookbook I've been looking through this book since I was wearing the Mommy's Little Helper apron! It has fabulous classic recipes and beautiful pictures of EVERY finished dish.
3. The Moosewood Cookbook A classic vegetarian cookbook with handwritten pages and beautiful little drawings throughout... its just so inspiring and delightful. Love how all recipes bring out the natural purity of the foods worked with. The Minestrone recipe is a favorite (I know it by heart now)... and the Felafel is delicious and exotic!