About Me
If I could work from home I would do more home cooking. If I could watch someone make a loaf of whole wheat bread from scratch, w/out a bread machine, just once I know I would catch on quick.
I love slowly incorporating wholesome, healthier ingredients into my everyday diet and cooking.
I WAS ADOPTED! THANKS SYDNEY MIKE FOR THE TAG AND AWARD!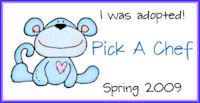 As of the last 5 years, I have acquired a "Favorite" cookbook. It's something I refer to almost as often if not foremost before referencing Recipezaar!
My mom's 1959 Fannie Farmer Boston Cooking School Cookbook. The first one issued in 1896 and survived on in annual copyright's and editions long after 1959.
It has the greatest original foundations for recipes and instructions on handleing meats, fruits, vegetables, cheese and more.
Favorite Foods
If you don't always have the time for fresh mashed potatoes or just tend to fix instant more than half the time, here is a tip:

Do you have dried or fresh rosemary, parsley, paprika, onion, garlic, and basil on hand?
These are great flavors to add to your instant potatoes.
Simply select a very small amount, say a pinch of dried herbs per 4 servings. Or Clip a fist of fresh herbs (minced) for 4-6 servings.
Add these herbs to your water, butter and salt. Simmer on med-low until the herbs open up, about 5-8 minutes of low boiling.
Then finish preparing the instant potatoes according to the package.

enjoy!