About Me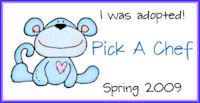 I love to cook, but don't do it as often as I would like. Many times, I don't know what I am going to make, when I go to the kitchen, to make dinner. I look at the ingredients I have on hand, and start putting them together, to make a meal. I must admit, that my husband and I have shared some yummy last minute creations. The meals I love the most, are the ones my husband and I create together!

Most of the time, I forget to write down the recipe, so it never turns out the same twice ;-D Occasionally I do write it down, and will try to remember to post it as a public recipe, from now on.

Besides cooking, I love to make jewelry, and have finally started selling it on Etsy.com. My web site is below, if you want to take a look at my creations.
Favorite Foods
After being tested for food allergies and sensitivities, I have a very restrictive diet, but can eat most foods once in a while, as I am fortunate that I don't have severe allergies, except for chemical additives, especially MSG, all artificial sweeteners, nitrites and nitrates, which all give me migraines. Therefore, due to Multiple Chemical Sensitivities, I must eat all organic foods, which can really prove to be a challenge, at times.

My favorite foods include: apricots, avocados, lamb, pork, whole grains, most veggies, Greek and/or Mediterranean Food, Chinese Food, Mexican Foods . . . I could go on and on, so let's leave it at that.

I once said I would try anything once, until I found out about Rocky Mountain Oysters. I draw the line at that, as well as "fermented saliva drinks, from South America :-( and BUGS, like fried scorpions, spiders, etc! UGH!
Chef #778540