About Me
I am a sourdough freak. I only work with wild yeast sourdoughs. It is the most fascinating and rewarding type of baking that I have ever done. I enjoy teaching others how to bake with wild yeast sourdough. I have always loved to cook, especially baked goods and desserts. I like to change a recipe to add my own personal touches.

I was a stay-at-home mom for 20 years, but now I work full time in a major department store.

I have four children, three sons and one daughter, who are all young adults now. I waited a long time to be a grandma because my youngest was the first to have a child. Now my third youngest is giving me the second grandbaby in September, 2008. Both grandbabies are boys.

Here is grandbaby #1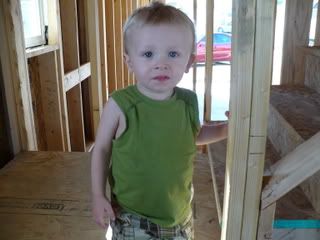 In my spare time (haha...what spare time?), I like to quilt and sew; do many crafts, including rubber stamping. I once worked in a quilt shop and taught classes in hand piecing, hand applique and hand quilting.

I love gardening and like to try new plants. I love to grow peppers--sweet and hot--and I always plant way too many of them! Also like to can some of my garden bounty, but time doesn't allow me to do as much as I'd like. I also like to grow and dry fresh herbs. They are wonderful--so much flavor compared to store-bought.
Favorite Foods
Breads are my favorite food, of course, especially homemade sourdough. There is no comparison between it and the store-bought stuff. A lot of people think that they don't like sourdough because all they have ever tasted is the store bought sourdough, which usually has additives to make it taste very sour. Homemade is totally different, and very addictive.

My favorite thing to eat is probably Chinese, mostly the sweet & spicy dishes. I also like Mexican a lot, and my favorite restaurant is ChiChi's, but we don't have any near here so it's been years since I've eaten there. I keep hoping we'll get one, as this city is growing by leaps and bounds.
---
Over 475,000 Recipes
Food.com Network of Sites