About Me
~WELCOME TO MY PAGE~
This Page is dedicated to my Dad, "The Running Chef". Forever in my heart! 1/22/10

My name is Star and I am originally from Rhode Island. I have been married for 21 years to my wonderful husband, Phil. We live in the Sierra Nevada foothills of Northern CA. I love cooking, eating a variety of foods and drinking wine (in moderation , of course)! There's nothing better than a wonderful meal! In Northern CA there is an abundance of fresh ingredients year round as well as wonderful wines! We have been fortunate enough to travel and experience wonderful cuisine, but I miss all the ethnic foods I grew up with. I love to cook and try new recipes.

Being the daughter of 2 caterers, food has always been a big part of my families' life. Some of the best memories I have are of family gatherings around the kitchen table or counter. The kitchen was and truly is the "heart of the home"!

Back East we enjoy food for passings, celebrations, comfort or everyday life. Menus are varied according to the holidays at hand. Portuguese for Labor Day, Italian for St. Joseph's Day, Irish for St. Patrick's Day, Polish for Easter and the list goes on. Tradition has deep roots in the East and "Food: "is" The Way To Everyone's Heart"!



"R.I. Hot Weiners"!



"Quahog"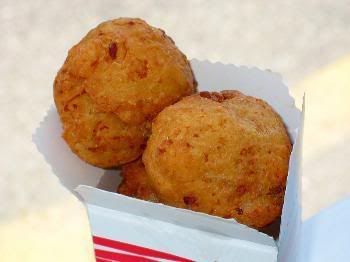 "Clam Cakes"



"New England Shore Dinner"



"Portuguese Sausage"
Favorite Foods
I love most foods, but really enjoy foods from my home state of Rhode Island (Clam Cakes & Chowder, Hot Weiners, Lobster Salad Sandwiches, Grapenut Pudding, Clam Boils and on and on). I also love ethnic foods such as Portuguese, Italian and Polish. My favorite chefs are Mom & Pop, Ina Garten/The Barefoot Contessa, and Emeril LaGasse (he comes from Fall River, MA where my Aunt lives and she knows his mother)! I am a cookbook and Food Network junky. I think I make the best meatballs & sauce (gravy in the East)! We have been blessed to be able to travel and experience wonderful food in many places. I hope you enjoy some of my family & ethnic recipes!

Please feel free to email me with your recipes, stories, traditions, home state, ethnic, or family recipes and any questions you may have about a recipe or where to find a certain recipe. I have extensive recipe books!

Please don't email me if you do not like a recipe I have posted.

REMEMBER, taste is unique and highly individualized!
---
Over 475,000 Recipes
Food.com Network of Sites