About Me
I am a Junior High School teacher who loves to try new recipes and cook for large crowds! I am always looking for fun recipes to spice up my dinner table. I have been married for 13 years this December, have three beautiful children, and my best friend is a recipezaar groupie!!!! She is one of the most wonderful people I know, with the biggest heart and she helped me get onto this website and into this great group.
For fun, I like to work outside, sew, exercise, watch movies and play with my kids. My husband and I like to go "Antique Shopping". I guess I am what you would call an "old soul." I love old and aged decor. I have a passion for music and play the piano. I love the musical "The Phantom of the Opera" and think that Gerard Butler is fab!
Some pet peeves I have is when people don't say "thank you" when someone has helped them. I can't stand people who feel entitled to things just because of who they are!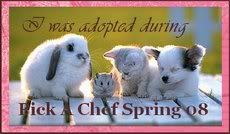 Favorite Foods
Lasagna, Chicken Parmesian, Cheesecake, Nachos, MEXICAN FOOD, Homemade Rolls
---
Over 475,000 Recipes
Food.com Network of Sites