About Me
Aloha!
My name is Steve, and I am from Hawaii. I grew up in the kitchen. I am 29 years old. I have traveled throughout Asia, Europe and the United States, so I do have a different pallet than most. I like good, honest grub (yes, the restaurant in Tokyo, and just good food too).

So, just a personal pet peeve right now... I get so angry when I read reviews like this...

This turned out well but it's not particularly creamy, I'd say thick but not creamy. I substituted 1/2 cup of the milk with soy milk and I can't taste the difference. I also reduced the sugar to 1/3 cup and it is the perfect amount of sweetness. I added 1/4 c of raisins or more, because it's just not the same without them. I added some cinnamon too, and used half the amount of nutmeg. I think the reviewers who doubled the custard part had the right idea, but with all the alterations, I think I'll try a different pudding recipe next time. Thanks for sharing, though. (She gave the recipe 3 stars)

Now is it just me or did she basically change the recipe sooooooo much that it became something new? If I were to make all the changes that this person did, I wouldn't have rated, just leave a private message.... But come on! If you review a recipe, review the recipe posted, not make major changes and then review!

Other than that, I am working on a cookbook of my favorite recipes for my family. I'm gonna give it out for Christmas this year! I'm really excited about that! woot!

I am famous for a few things... Red Velvet Cupcakes, Cheesecake Tarts, Furikake Chex Mix and cookies, cookies, cookies!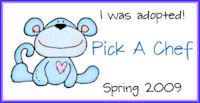 What does the ranking system mean to me?

5 stars - I will definitely make this again. Probably sooner than later. It might have required minor tweaking, but was a solid recipe.

4 stars - I will more than likely make this again. It might have required some tweaks, but overall was a great recipe.

3 stars - I might make this again. It was just ok.

2 stars - I will probably never make this again. I really didn't like it, and will make it again only if I had a gun pointed at my head.

1 star - Sorry. I will never make this again. Even if there was a gun to my head, I would not make it again. I had to throw it away / spit it out / my dog wouldn't go near it, etc.
Favorite Foods
I *HEART* DESSERT!!!!

Yes, I love dessert, and chicken! I love Asian inspired, fusion cooking, and most importantly I LOVE chocolate!