About Me
I'm just a good ol country girl that loves to create! I call it creating...not cooking. I got this love from my mother (Love you!) and Granny (Miss you somethin aweful-RIP).

I'm a homemaker and I've started my own buisness. I have two wonderful children and three of the most beautiful, loving, sweetest grand children in the world! (I lovingly refer to all of us as the Family Circus) My children have inherited my love of cooking; they've been helping me since they could stand in a chair in the kitchen! My grand children are learning this love as well!

Then theres lots of people that have adopted me...lol. Many because they love my cooking. The others...well I haven't figured out yet why, but they always seem to show up just before dinner is being served. Cook'em some good ol southern soul food and they just might ask if they can move in!

I'm always looking for new recipes and I follow the directions (the first time anyways). Then if we like it, I'll modify it and make it my own.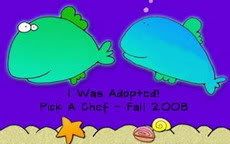 Favorite Foods
I'm from the south so any southern cookin or soul food of course! Anything with chicken, seafood and veggies are my favorites. I try to re-vamp anything I make into Low Carb, can never be too healthy. My family loves any Italian dishes I make. People are always asking for me to make my famous Spinach Dip for any and all gatherings!

I love to bake! Cookies and pies are so fun to make with my kids and grandkids helping. I also love baking bread in my new bread machine and I have to stand guard until it has cooled or it will mysteriously disappear!
Ask my family and they'll say their favorite restaurant is Meme's Kitchen (that's me). My favorite restaurant is Sakura Japanese Cafe on 84 in Dothan, AL...I stop there everytime I'm in town!
---
Over 475,000 Recipes
Food.com Network of Sites