About Me
I just turned 24 years old, and have been married for a little more than two years. My husband is my best friend, and I would be completely lost without him...which is why I scour this website looking for the perfect recipes to make for my sweetie!!
I love comfort foods, sweets, ice cream ( Pretty much ALL things bad for you). I also love a good cup of coffee, and love love love green tea. However, I am trying very HARD to change my eating habits, and live a better lifestyle. So far its a losing battle, but at least I'm trying, right? ;)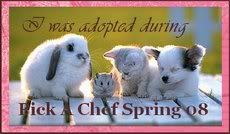 My Rating System:
***** Five Stars: LOVED IT! This will be in my collection for years to come.

**** Four Stars: Pretty damn good, however, there is something I might alter, even if it's something small.


*** Three Stars: This was alright, but I would have to really change something in order to keep it.

** Two Stars: Didn't really like. Probably will never make again.

* One star: This just doesn't fit our taste, or did NOT turn out as posted. Will never make again.
Favorite Foods
Any type of salad or vegetable. Steak, chicken caesar salad, coffee, ice cream
---
Over 475,000 Recipes
Food.com Network of Sites