About Me
I live in the San Antonio, TX area. I'm a divorced mom of 2. My oldest is 23 and just got married in June and my baby is going to be 21. (I have to be careful about calling him my baby. He's autistic and has definite ideas on what he can be called and he is NOT a baby! LOL)

I graduated from college in 2002 and started teaching that fall. I just finished my 6th year! Wow!

I bought my first home 3 years ago, and I love having my own yard to work in. I also love being able to paint the walls any color I want! Besides working in the yard, I enjoy cooking, eating, and reading.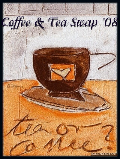 I participated in my very first swap with the Coffee/Tea swap and loved it!

My next swap is

Favorite Foods
There are so many! My first love is TexMex (and I'm in the perfect place for it), followed by Chinese, Italian, German, barbecue, ..., in no particular order after TexMex. My favorite restaurant varies depending on what I'm in the mood to eat.
---
Over 475,000 Recipes
Food.com Network of Sites