About Me
I work part-time for the local newspaper (The Mill Creek View) as a copy editor and a few days a month helping my husband with his business. Mostly though, I am a full-time stay-at-home mom to our three great kids. I volunteer a lot and in my spare time, I enjoy reading and scrapbooking.

My oldest is Alyssa, who is 14 and in 8th grade. She's a combination of sweet and serious. She's very responsible and has just started babysitting. My youngest is Andrew, who is almost 9. He spends his days alternating between making us laugh and making us crazy. My middle daughter is Kelsey, who is almost 13 and in the 6th grade. She is very kind-hearted and has a wonderful sense of humor.

My husband, Todd, and I have been married since August of 1996 and will celebrate our 16th wedding anniversary this year.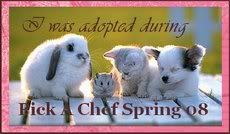 Favorite Foods
I absolutely love ice cream. I seriously can't live without it at least twice a week. I also like pasta and chicken. I tend to eat all the breads and vegetables on my plate first, and only a few bites of meat.

I actually enjoy cooking. The only problem is that regardless of what I make, it seems only Todd and I eat it. So I tend to be a bit of a short-order cook most days. The hope is that my picky eaters will someday branch out. Until then, I guess I'll just make the same 4 meals that we all eat and supplement by serving a lot of fruit and cold cereal. :)

My favorite restaurant is Arnie's in Mukilteo, Washington. It's local and serves the best seafood dishes, combined with great service and an awesome view of Puget Sound.

I'm not sure if I would categorize myself as famous for this, but I make a really good summertime caesar salad with pasta that people have enjoyed whenever I have served it for lunch.
---
Over 475,000 Recipes
Food.com Network of Sites