About Me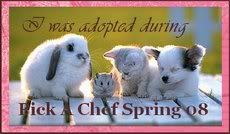 My kids are grown and gone, well most of the time. Unless they want to rob something. We have a small farm outside of St. Louis. Home to a few critters. Six Parson (Jack) Russell's run the joint, five horses - two blue eyed paints and three quarter horses. Three are mine. Jet - a blue eyed babe. My trail horse and whom I am just crazy about. And crazy he is. Blackalicious - my western pleasure show horse who has changed my life, confidence completely. I owe him much. Cash, a Dynamic Deluxe line Quarter horse and the other two quarter horses are my daughters. Only mine when it comes time to feed, care, or shovel them.

My rating criteria:

5 Star Ratings - A recipe. No changes, no adjustments. Instructions, times, measurements as close as a body can get. Perfect keepers everytime.

4 Star Ratings - B recipe. Minor changes, adjustments needed. A keeper, a will make again but notes to make changes.

3 Star Ratings - C recipe. Passes but boy needs some work. Instructions, times, measurements way off. May or may not keep or make again.

2 Star Ratings - D recipe. Maybe a recipe with a solid idea but boy needs a lot of work and not worth keeping or making again. Difficult to make, turned out bad due to ingredients, measurements, times, instructions, etc.

1 Star Rating F recipe. Just a star for trying to post it. Hopefully it was good for someone. Forget I found it.

No Rating What is up with this? Just comments. Maybe never should have been posted. Could be a prank!
Favorite Foods
Too many, I wish I hated some, I might be slimmer.