About Me
"Jug O'Mud" was a nickname that my grandfather gave to me when I was very young.

As a small child, I was so close to him that I might as well have been his shadow. "Pa Pa" had many unique, (if not) unusual little nicknames that he gave to all of his grandchildren, but as far as I know, this one was reserved for me. Perhaps it was because I was always helping him work around the house or in the backyard where, by day's end, not only were my pigtails drooping, but I was a downright mess.

I'm a GRITS: Girl Raised In The South, and proudly hail from Savannah, Georgia. Savannah is a beautiful, historic and charming old southern city famous for Riverstreet/downtown district, SCAD, that "Midnight" book & movie thing, the Girl Scouts, and of course (for us foodies), Mrs. Wilkes and Paula Deen!

What'cha might not know about Savannah is that it is a pretty small "big" city (Sav'h metro area pop. around 300,000)...meaning, there are relatively few "strangers" to be found. Chances are high that if you dont' know 'em, you'll know someone who does!

I met my (French) husband in England (go figure!), and, after 10 years together, it still feels almost too good to be true...he's that wonderful of a man, husband and father! We have two beautiful children (do I sound biased? hehe)

We recently moved to Massachusetts after a short stint in Michigan. As such, we are (yet again!) slowly acclimating to the weather, culture and other changes that come with discovering a new place. One thing is for sure, though, we love autumn here (it's beautiful). I heart leaf peeping and would love to join a bonafide leaf peeping tour throughout the New England area to see more of Mother Nature's autumn wonders.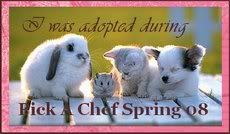 Favorite Foods
Good ole Southern cookin' has to stand out as one of my favorites, although it isn't very friendly for the waistline or life span.

I also enjoy Asian cuisine (especially teppenyaki) and Italian (a distant 3rd). While living in England, I grew an affinity for fish n'chips. Mmm,mmm good, but that's gotta be up there on the artery cloggers chart!

My DH is French, so from time to time, I try to cook some of his favorite Provencal meals to enjoy...it's hard, though, as many of the ingredients are hard to find (or afford)!

Thanks for taking the time to get to know me.
Now, Bon Appetit!