About Me
I have always loved to cook, and went to the California School of Culinary Arts, Le Cordon Bleu in Pasadena, CA. I graduated in 2006. Although I have been schooled in classic French cooking, I find I enjoy making the great comfort food that I grew up with, with that gourmet twist.

I am an Executive Kitchen Manager for the 23rd fastest growning company in Orange County CA, and manage a Gourmet Chocolate Company, as well as a company that makes and delivers low fat, low sodium, and low cholosteral meals.
I am married to the most wonderful man in the world, and have 3 amazing kids (2 girls (5 and 6) and a boy (2). Because we both work full time I use the crock pot 3-4 times a week, and make simple, quick meals. On the weekends I tend to get elaborate and tend to be a bit over the top, but no one complaints!!!!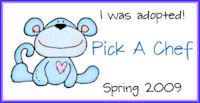 Favorite Foods
I love Vietnamese (My husband is was born there), and Korean, but there is something to be said for those great American classics.