About Me
I moved from a large Metroplex (Dallas/Fort Worth) to a very small town in Georgia. Honestly, this town would make Mayberry RFD look like a hugh Metroplex. It was quite a culture shock. Before I moved my dear friend and I were talking about opening a catering service and due to circumstances, that never worked out.

My way of cooking has changed quite a bit since I am from Texas and this is the Deep South.

Coming here to "retire" was one thing but after a year my daughter and granddaughter decided to come here and they moved in with us. She works part-time as a substitute in the elementary school and since I am disabled it's a blessing she is here with me.

I have a Son and Daughter-in-law in Dallas with two other grandchildren that I miss dearly.

I love to bake but I, myself,am not a big sweet fan. Have to have a real craving. Since I had such an extended array of friends and family back home I still have trouble cooking for a smaller family but isn't that what we have freezers for?

I also now have a garden and love to do canning.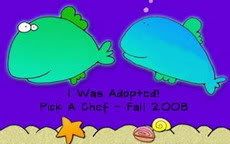 Favorite Foods
My favorite foods are Italian and Mexican and Seafood. (If you had told me several years ago I would be heading shrimp I would have said "not me". But lo and behold I could do this in my sleep).
---
Over 475,000 Recipes
Food.com Network of Sites