About Me
I love to bake, I love to cook and I have a nasty cookbook/recipe fetish (looking at my mom's and grandma's collections Its genetic I think!!). I also collect Pillsbury Dough Boy things. I am very anal and competetive when it comes to my food...I like to entertain but find I over do it.

I am married to my best friend, we have two kids and have been married 10 1/2 years. We are not fussy eaters except the hubby hates beets. I can live with that one thing.

I grew up on a mixed ranch just east of the Sask/AB border south of Lloydminster. I grew up around horses and cattle. I love going home back to the animals and the farm. I spent a lot of my childhood with my grandma. She was a wonderful baker who went through the depression, I learned so much from her from her experiences. I love making her "heritage" recipes, brings my childhood back for my children and my brothers who enjoyed the treats. Her Blueberry muffin recipe is one of my absolute favorite. When I was still at home I was put in charge of meals at harvest time from the time I was old enough to use the stove. I loved coming home from school to make a big meal to haul out the field. All my friends when home to sit in front of the tv and I stood at the stove.

I grew up in the local 4-H club, spent 10 years as a member. I am still a huge supporter of our club and very proud of its history. My mom and I organized a 50th Anniversay cookbook in 1997. It is probably my most used paper cookbook...zaar being my most used online of course.

I love to can. I started with Aunt Lori's salsa a few years ago. I have expanded to jams, jellies, pickles,..whatever catches my eye at the time. I am a berry picker and love that fresh fruit to make the homemade jams and jellies. Being raised in Sask we have the opportunity to pick a variety of wild berries...Saskatoons, pincherries, chokecherries, strawberries, raspberries, blueberries, thorn apples, gooseberries,currents...we have picked them all.

I will rarely post anything less than a 4 star review and most of the time just won't post a review until I have tried the recipe a second time. It could be my error. I don't count the dayhome kids opinion in my ratings because they like something one day and hate it the next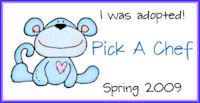 Favorite Foods
My favorite foods include Beef done anyway there is. I am from a long line of beef producers and we take great pride in our beef.

I love sweets, I spent a lot of time with my grandma growing up and we baked constantly. Pies, cakes, cookies, squares you name it I love them all.

I love cooking the same foods as I was raised on but changed up to a healthier version when possible.

My pan shortbread, my Sunflower brittle and my mom's rum tarts (butter tarts) would be my most requested sweets. I sell my salsa in the fall to friends (who won't learn how to make it themselves).