About Me
My favorite color is lime green.
My astrological sign is Cancer the crab.
I love gardening.
I live in Western Kentucky.
For fun I watch TV and play on the computer.
My favorite cookbook is this website.
My pet peeves are people grinding their teeth, especially in their sleep. ugh!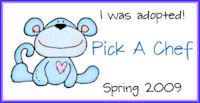 Which HP Kid Are You?


As a Beaver you are hard working and loyal. You remain true to the true King of Narnia.
Which Narnian Species Are You?


Which Gone with the Wind character are you? Your Result: You are Melanie Wilkes You are the truest of people, and kindest of heart. Although you are meak, shy and delicate, you are sweet, kind, and an optimist. You only see good in people, even those who have little good to be seen about them. You never hold a grudge and are almost never judgemental. You are a social pillar known for her charity and kindness.
You are Ashley Wilkes
You are Rhett Butler
You are Scarlett O'Hara
Which Gone with the Wind character are you?Quiz Created on GoToQuiz
Favorite Foods
I LOVE crispy chipolte bbq snack wraps from mcdonald's. I'd say that, chinese food, and fried octopus. My favorite dish to cook is probably fluffy cinnamon pancakes. The dish that I am famous for is my Orange Sunrise Fizz (search it!). My favorite restaurant is The Olive Garden!!!, but if I went to California, I would probably visit the cheesecake factory because I absolutely ADORE cheesecake.
---
Over 475,000 Recipes
Food.com Network of Sites