About Me
I Was Adopted banner: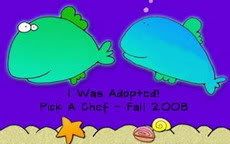 Hi My Name is Emmy Lu and I am a Tibetan Terrier. Oh and we just got a puppy who is also a Tibetan Terrier. She is a pain....but of coarse I am still The Queen around here.

My Sister Maddy & I and yes our Mom & Dad live in Huntsville, Ontario, Canada six months of the year and Naples, Florida the rest of the year.
My Mom loves to cook and she is constantly on the internet looking for ideas and also has a library of cookbooks. Oh and by the way my Mom cooks us all our
meals and also our doggie treats.
As we are all in summer mode year round. Our favorite cookbook right now is "Best Summer Weekends" by Jane Rodmell.
Favorite Foods
Hi: My name is Emmy Lu and I am a Tibetan Terrier. I have a sister called Maddy and she is a pain. Our Mom cooks all our food & treats for us. Yes we are spoiled.
Our favorite is anything barbecued but our parents favorite cuisine is Italian, Thai and Japanese.
My parents were recently in Italy and they said they never had a bad meal the whole trip.................darn we should have gone with them.
---
Over 475,000 Recipes
Food.com Network of Sites