About Me
My new profile picture is me and my almost 18 year old daughter. I can not believe that my baby is about to be old enough to vote, and legally make decisions for herself. ARGHH!

Now on with the show...
I am a St. Louis girl through and through. I am a stay at home mom of three, married to my high school sweetie for the last 21 years. I have a wonderful 14 y/o son who loves to cook with me and I am excited to pass along my recipes and cooking traditions to him as well as to his sister and brother.

We are dedicated to the animal members of our family too. We have one dog and one cat. Angel is our doggy and she is definitely one of my very best friends. She is a rescue dog, who was born to a stray on the streets of St. Louis. She is the sweetest, most loving, loyal dog I have ever known. She is a Basenji mix. The newest member of our family, is Bella the cat. She is a rescue animal also. We adopted her from a no kill shelter in May of 2008. That organization had aquired her from a shelter in Piedmont, Missouri that was flooded in the spring. The water came up so quickly that they were not able to get all of the animals out before the water came up. Thanfully, Bella survived to become a sweet and shy member of our family.
Our first cat, Gabby, went to Rainbow Bridge last December. He was a wonderful loyal cat and lived a wonderful 17 years (he was my first experience at raising a teenager and a senior citizen in one body! I encourage everyone to adopt a shelter animal. I have a lot of friends with pure bread animals that are fine, but they do not compare to my wonderful furbabies that have come from shelters. It is as if they know that they are being saved. Give your heart to a stray, you will never want it back.

Another one of my favorite activities is being a troop leader for m daughter's Girl Scout troop. I have been involved in one capacity or another with Girl Scouts since I was a Girl Scout and I love the organization. My daughter is a Senior (or Ambassador-in keeping with the new GS terminology, but I am not a fan) and is part of a wonderful troop of girls. I grew up as a Girl Scout and now I get to watch as my daughter and her friends enjoy some of the same traditions as I did and many, many new adventures that have come along since my days as a scout.

I collect hometown type/fundraiser cookbooks and love trying other people's family recipes. I love learning ethnic recipes from people who come from the culture. I have a friend who is from the Philipines and she has taught me to make wonderful eggrolls, lumpia and pancit. They are so good and I love the chance to share what I have learned. I have also learned to make tamales from a friend from Mexico.


I am a dedicated advocate for people who have disabilities. Prior to having my own children I worked in the field of disabilities and then God blessed me with my youngest son, who has Cerebral Palsy.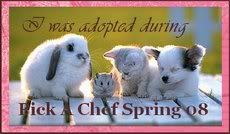 Favorite Foods
My idea of heaven is Thanksgiving Day. I love cooking BIG.

Baking with yeast is a passion of mine. As I worked and helped support my husband through college, I promised myself that once I got to be a stay at home mom that I would try a new kind of yeast bread every week. I have stopped that since then, but still bake with yeast a couple of times a week.

Our family does a major production of cookie baking each year at Christmas. I have also started adding candy making to the repitoire. We give trays and tins of cookies to friends, family and neighbors.

(updated: 2/2010)