About Me
I've been a member since 2007, when I stumbled across RecipeZaar while surfing recipes. I've been hooked ever since!
I'm Mom to 3, Grandma to 5. My career is a joy to me. As a CNA, I am a caregiver for elders. The rewards are enormous! I'm a huge advocate for Alzheimers' research.
Cooking is my therapy. Being in the kitchen preparing food is my favorite way to relax & de-stress. Other than cooking, I also enjoy reading, exploring thrift shops, and haunting our local farmers' markets.
The friends I have made here are priceless to me. I love you all!

.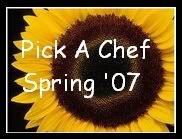 Favorite Foods
Seafood!! Eating and cooking... my favorite food in the world is South African rock lobster tails, with lots of butter!
Fried okra... grits with butter...fresh-caught flounder with lemon!! Silver Queen corn, yellow squash with Vidalia onions... I LOVE living in the South!!