About Me
I live in New Orleans where we are spoiled by the fabulous food and restaurants and are hard to please when we venture far away from home. We were struck a hard blow by Katrina, but we've come back with hard work and determination. The BP oil spill in the Gulf has been a worse catastrophe to the whole Gulf region. I have no doubt we will survive once again.
I work fulltime but love to spend weekends cooking for friends and family, especially during the holidays. Favorite cookbooks: anything from Southern Living and Bon Appetit magazines (the recipes don't intimidate me!).

I have 3 sons (2 of them steps) and 6 precious step-grandchildren. I say "steps" but I love them like my own. Both DH and I are in education (I'm clerical; he's administration).

Before Katrina, we shared our love of food and cooking with 3 other couples in a dinner group called "Whine & Dine." Our quarterly dinner parties all had themes that were reflected in the menu, centerpieces, what we wore, etc. Tremendous fun as we celebrated the cuisines of Canada, Italy, seafood, fine restaurants, Martha Stewart. At a breakfast dinner party, we all wore pj's and slippers! The storm disrupted all of our families and homes and social lives for quite awhile, but I'm hoping we'll re-start our group again soon (now that everyone involved has finished repairing their kitchens!)
Update Oct 2009: Whine & Dine reunited after 4 years. The theme was Whine & Dine Goes to Hollywood. Menu: The Magnificant Seven-Layer Dip, Ratatouille, Veal Oscar, When Harry Met Salad, Ol' Yeller Squash, Okrahoma, and Napoleon Dynamite. All of us dressed as movie stars and "Oscars" were awarded. For a night, it was as if Katrina had never happened! Great, great, happy fun!
Update July 2010: Whine 'n' Dine has since had a "Last Supper" dinner. Not what it sounds like -- each couple brought their course of whatever they would like for our last meal before we go before the firing squad! Each course was a delight from charbroiled oysters to banana splits.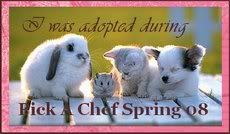 Favorite Foods
I love to make osso bucco and homemade soups because they make the whole house smell homey and warm! If I could just bottle them as air fresheners! Thanksgiving is my favorite holiday and everyone comes to our house. It's a lot of work but I wouldn't have it any other way!