About Me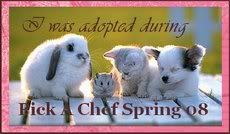 I am a 58 year old business woman who owns two insurance agencies. Don't ask me how that happened since I was a home economics major in high school! I still love to cook and recipezaar is helping me make the time to try new ideas for a break from the day to day activities of running a business. Thank you!

I've been in the insurance business since 1974, and my husband has recently joined my agency as well. Between us my husband and I have 5 children and 7 grandchildren. We live on the St. Joe river and we love pontooning and fun with the family on any occasion.

Also, I can't leave out the two 4-legged friends of the family, Bogey our English Bulldog, and Reagan, our Lhasa Apso, both male and both spoiled of course!

Cooking and grilling in the summer are things we all look forward to whenever we are all together. It's just plain fun to spend time together whenever we can.

I started collecting cookbooks when my grandmother passed away. She had many old old cookbooks complete with her hand written notes, new special recipes she clipped out of different publications and yes, a few stains as well. I'd hate to think how much I've spent collecting different newer cookbooks over the years, and keeping them under control has always been a big problem for me. Recipezaar help me to categorize and capture the really important ones which I'm very grateful for.
Favorite Foods
As for Favorite Foods, the Hearts Delight Eclair Dessert is the one recipe everyone begs me to fix at any family or other special event, but I try to get around that by searching for other new and equally good recipes for a change of pace for the cook! (And, it's really not that hard so try it sometime - it's worth it!)

Personally I just like food in general and Recipezaar is like a breath of fresh air for me. I'm enjoying using my cooking skills again, and my family is REALLY enjoying it!

Since the extra fun of cooking has helped to add a few extra pounds, I'm now surfing and sharing as many lighter recipes as I can.

Let's face it - this is just plain fun!!
---
Over 475,000 Recipes
Food.com Network of Sites