About Me
Married going on 28 years to a man who loves to eat, with two cats who approve of everything I do. Couldn't get luckier than that.

I'm a secretary working for a social service agency serving mentally retarded adults. I have been there going on 30 years (as of February 2009), a challenging and rewarding line of work for the men and women who work in our day and residential programs, and I am proud to support them.

I really enjoy finding and preparing new recipes, so when I found Zaar surfing the net I was hooked. My mother gave me the premium membership as a gift, and I couldn't be happier.

I have some same ole, same ole recipes that you make when you have no time for inspiration, but I truly enjoy cooking new and different - so I rarely make the same thing twice. If you are invited to my home for dinner more than likely I have found a never tried recipe from Zarr and you are my Ginuea Pig. Sometimes it works, sometimes it doesn't, but I'm never bored with cooking - which I think is the point.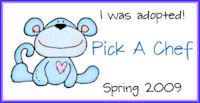 Favorite Foods
You name it, and I would try it. Greek, Indian, Italian, Mexican - bring it on. I'm from the Midwest - so good old comfort food is front and center.
---
Over 475,000 Recipes
Food.com Network of Sites