About Me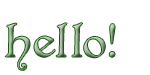 I first took an interest in cooking as a teenager when I decided to become vegetarian. Initially vegan, my need for food necessitated a skill in meal preparation! Several years after my transition and all the while honing my cooking skills, my family purchased two food businesses. I was with Better Than Freds Salsa and Glass Jar Goodies for over five years and my time with the companies further encouraged me to experiment with new techniques and recipes.

Since the beginning of 2009, sharing recipes has become one of my favorite things to do. I've done this in a number of different ways; through my blog, on freelance writing websites, and even through a cookbook I published with my mom.
Favorite Foods
I am the queen of spring rolls in my house! I really enjoy making my mother's scones and have a lemon sugar cookie recipe that's fabulous for sure.
When it comes to favorite food purchases, vegan cookies are my absolute favorite thing! I adore Liz Lovely vegan cookies as well as Primal Strips jerky and Tofurky sausages.
The restaurant selection where I live currently leaves something to be desired. For a quick meal I prefer Rosa's or Subway and when it comes to take out pizza I love Papa Murphy's take-and-bake pies.
The best vegetarian dish I ever had was the veggie lasagna at the Chelsea Royal Diner in West Brattleboro, VT. My favorite restaurant is called Pickity Place; it's an old-fashioned farmhouse style restaurant that uses locally grown produce and is set as a five course luncheon. Delicious!