About Me
I'm a stay-at-home mom (SAHM) of two beautiful little girls, Cassandra (4) and Katherine (1 1/2). I love to cook, especially desserts as I have a BIG sweet tooth! I also like to karaoke but I haven't been able to go out and sign since my first daughter was born!

I also love photography, crafting, jewelry making, and working out (of which I hope I'll start doing again soon! *lol* my 1 1/2 year old is starting to be "people" friendly which will allow me to put her in the nursery at the gym!).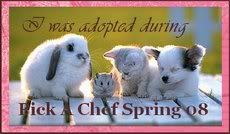 Favorite Foods
I love pratically everything! I do have a soft spot for Italian, Chinese food, and desserts. My only dislikes are: chunky tomatoes (petite diced is ok), and big pieces of onions (but I love the flavor!). My husband is the picky one, it's difficult to cook for him when I can personally eat anything! My oldest daughter likes everything but my youngest, she's just like her daddy!
---
Over 475,000 Recipes
Food.com Network of Sites