About Me
I Was Adopted banner: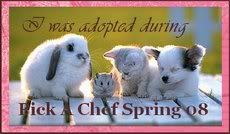 I live in Spirit Lake,Iowa and enjoy having a place on the lake. I love to cook, grow seedlings for my small garden, read and play bridge. I also love to try new recipes on my husband, children, grandchildren and friends. Therefore, I truly enjoy this site!

For those of you who might wonder why I give only 4 and 5 ratings to a recipe - I try to choose a dish that has ingredients I know we will like and appeals to our taste buds. With all the wonderful recipes on this site to choose from, one can seldom go wrong. Those that occasionally don't turn out as hoped, I don't rate. Someone else may find that same recipe perfect for them!
Favorite Foods
Scalloped Potatoes and Ham, Lobster Tail, Pastas, Mexican and a good ole Pot Roast.  AND love out of the garden fresh vegetables, especially tomatoes and corn on the cob. 
---
Over 475,000 Recipes
Food.com Network of Sites