About Me
I am a stay at home mom with 5 wonderful children. When I have time I love to scrapbook and journal. I also crochet and do cross-stitch and enjoy reading my Bible. Sometimes I am all into trying new things then other times I only want old standbys. I like to get veggies into my picky kids by sneaking them in where they were not expecting them. I've learned that its improtant to try new things 2 or 3 times before you can really consider it rejected. Sometimes the second time you offer it to them they will scarf it down, when the first time they barely got down the mandatory taste bite. Go figure.
I love to cook and am training my kids to wash dishes so I can do more cooking without dreading the dishes afterward. Although my kids are also interested in cooking, I am making an effort to pick recipes and times that we can make things together, when I won't get stressed out because I'm in a hurry or too tired.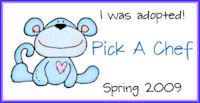 Favorite Foods
I love cooking so much more when the weather turns cold. I get out my apron and bake, make casseroles and am willing to invest more time in cooking. We love chicken and pork and the crockpot.
I guess I am famous for my deviled eggs, chicken and dumplings(for my niece and nephew anyway) and my mom likes my broccoli salad. My mom likes to make sure I'm not bringing anything strange when I take a dish to her house, so I have learned to take 2 dishes if one might be considered out of the norm.
---
Over 475,000 Recipes
Food.com Network of Sites