About Me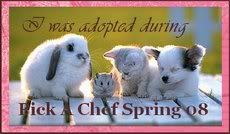 Mother of two & married 29 years. I'm sometimes inspired, but cooking is not at the top of my list. Maybe, it's because my friends appreciate my creativity more than my family does! Oh well, such is life...
I love discovering new ways of cooking old favorites from people all over the world. Food is a interesting connection between us all, isn't it?
Favorite Foods
Anything fast & flavorful--grilling preferred even when there's snow on the deck. On rainy days, however, I enjoy doing one-pot meals and soups that simmer & simmer...
I discovered Indian food years ago & think it's an amazing example of ethnic cuisine. The complexity of the flavors is incredible.

After making my first trip to Paris several years ago, I concluded that the French pay so much attention to detail, even in simple dishes such as roasted chicken. The burger I ordered in a little cafe one evening was delectable--it was topped with decadent cheese plus carmelized onions. Don't listen to what people say - for the most part, the French are very hospitable, as long as you try to speak just a few words in their language. Can't wait to go back & revisit French cuisine, not to mention another trip to the Eiffel Tower...