About Me
I started cooking just by helping my Mom out in the kitchen as a little girl. I preferred baking over cooking, as I loved getting all into measuring things and stirring. I always got to stir!

However in the past 5 years I've been the one responsible for making nightly dinners. At first this consisted of the same 10 or so dishes in a constant rotation, but that quickly became boring and I remembered how much my Mom would complain when I was younger about how she always made the same things and she never knew what new dishes to try! Obviously 20 years ago, Zaar wasn't around!

I still cook a lot of the same type of dishes my Mom cooked when we were younger and I try to incorporate as much fresh fruit, vegetables, and herbs into my meals as possible. However Melvin's favorite food of all time is fried chicken so... I make sure he gets a fresh vegetable on the side!

My favorite cook book is my staple cookbook which is the old red and white Better Homes Cook Book. My only pet peeve about cooking is bland food!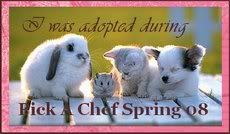 Favorite Foods
Some of my favorite dishes to make are Green Enchiladas, Rosemary, Garlic and Ginger chicken, Garlic bread, Chocolate Banana Bread, Orange Chicken, and oven baked french fries of many varieties.

Mel and I eat out once or twice a month and we usually end up going to Chili's! We both love their margaritas and hot buffalo wings. Pretty much any place we go, we try the wings if they have them. I'm always on the hunt for restaurants that have a Salad with blue or gorgonzola cheese, spiced pecans, and fruit. Those salads are my all time favorite.
---
Over 475,000 Recipes
Food.com Network of Sites