About Me
One of my biggest passions is for cooking. As a Personal Chef, I feel very fortunate that I get to work doing something that I love. I enjoy helping people gain more satisfaction from what they eat by working within their dietary requirements and restrictions to come up with meals that they enjoy from both taste and health aspects.

I love learning about food! Cookbooks are some of my favorite reads. So much of society and culture is involved with what people eat, and learning about their food is learning about them, as a culture now, as a history of a people, all the way to the individual. I find that really thrilling.

I'm originally from NY and I grew up in town that has a very large Italian and Asian population, so getting great ingredients for Italian and Asian food was no problem. I grew up with miso soup, my mother's garden grown tomatoes sprinkled with fresh basil, fresh mozzerella, some salt, pepper, olive oil and maybe some balsamico. My family is of mixed descent, so that we ate everything from spaetzle to chapatis! I've lived in the Southwest, where I had access to a wonderful array of Mexican ingredients and teachers, and I enjoyed delving into that cuisine. I've lived in the Deep South and had Cajun Grandmothers teach me their Gumbo, red beans and dirty rice. I'm so grateful for the wonderful diversity of this country, that we have people from all over willing to share their food and friendship.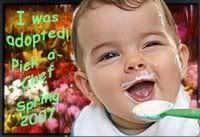 Favorite Foods
Favorite Foods du jour:
Turkish pistachios...mmmmm. Better than California hands down.
Ok, new found love....triple-cream blue cheese. Costello from Denmark uses P.Roqueforti as the blue strain, which I found an intersting bit of info. and it is fantastically delicious.
Greek-style yogurt..I love the thickness.
Pooris...who can resist fried and puffy?
Parathas...who can resist buttery and flakey?