About Me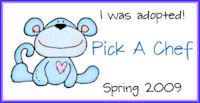 I learned to cook from my mom and years of home ec in school. I enjoy reading, internet browsing, writing, talking, music, and movies. I get the cooking bug every fall it seems and that is when I enjoy cooking the most. The rest of the year it is kind of a pain. But I have some all time favs and I am trying to post them here. I love this site because it allows me to share recipes I've always made with my kids, one of which lives far away.
At gatherings and potlucks, I admit, I am most famous for bringing the green bean casserole, pretty provincial, I admit, but everyone demands it of me, and well, I can't disappoint my public!

The cookbook I use the most is good ol' BHG "New" Cookbook, which is very dog eared by now. I've had it since moving out on my own in 1985.
Favorite Foods
Mexican Food, Hot and Spicy, Exotic Cocktails and Liquors, Wine (can't afford to be picky about it though) Old Fashioned Green Bean Casserole, Homemade Chocolate Chip Cookies, Thanksgiving Turkey Dinner, Wassail, Irish Beer, Corned Beef and Cabbage on New Years Day and St. Patrick's Day, I love international cuisine and trying new dishes. I enjoy cooking meals more than baking.
---
Over 475,000 Recipes
Food.com Network of Sites