About Me
***Update***

I have twin boys! Born November 12 they are our new obsession. We rarely have a minute to cook an exciting meal but plan on making all of their baby food so I think a new category on 'Zaar just opened up for me!

I live in Northeast with my husband John (Chef John Clotfelter) and our three 4-legged children (Audrey, Henry-Simon, and Stanley Norman). When we are not running after our very naughty Chinese Crested (Stanley Norman) you can catch us browsing and buying at the Electric Fetus or heading out to a show.

I work in retail which can be a thankless job (as many of you probably know) and I love to come here and do something I truly enjoy and get lots of FEEDBACK for it.

We love to travel and don't get to nearly as often as we'd like. The Eastcoast is our favorite destination and we hope to someday retire to Annapolis. I love that town, I never want to leave when we're there.

My favorite cookbooks are How to be a Domestic Goddess by Nigella Lawson-- she has the best desserts, the Clotfelter Family Cookbook, Any of the Junior League editions and of course this one here at 'Zaar.

My passion? I love to cook, obviously, but I also love music. We are taking full advantage of the scene here in Minneapolis since relocating 2 years ago. It's tough on the feet and sometimes the crowds make me feel old, but I wouldn't give it up for anything.

I have quite a few family members who lurk here- John Clotfelter (husband) Jake Clotfelter (BIL) Jenna Ecklund (sister) and I am hoping my BIL Jimmy will start posting soon since he is driving me nuts calling me with recipes every week. I also apologize up front if they rate recipes of mine and people think it's unfair-- I've told them all not to rate recipes unless they have tried them.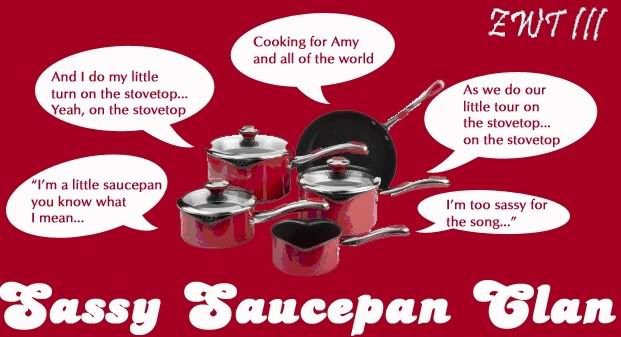 Favorite Foods
There is no way I could name a favorite food, I have too many. I love all types of ethnic food-- Mexican, Chinese, Thai, Indian-- and I am terrible at cooking them, so we get to eat out whenever one of us has a craving.

Grandma Grace's Pot Ribs are a favorite and always get rave reviews. I love appetizer type stuff, especially anything I can dip a chip into. I love dessert on occassion, but I would rather have something savory, I could eat tacos for breakfast and sometimes do.

Up until now I have been the sister that cooks. Ryon has started to edge in on my turf a bit and now that she's found 'Zaar I think the war is on.

My favorite restaurant is Murray's-- it's a little Jazz bar up the street from our townhouse in Columbia and I love their desserts, they are made by the owners wife and they are always amazing. I miss it a ton. Here in the MPLS I enjoy Auriga for night out- they closed this winter which is a total bummer, the chef was amazing. Bar food is fabulous at Mac's Industrial (try the house wings) and I'm always up for sushi anywhere. Cafe Brenda has proved to be fantastic and I can't wait to go back. There is always something new here in Minneapolis, I can't say we venture out to that "other" city just East of us very often. When we do it's usually a trip to the Local for some Fish and Chips and Guinness. Can't get any better then that. Unless of course it's at O'Donovan's!
---
Over 475,000 Recipes
Food.com Network of Sites